Boats for Chartering in Latchi
​
Cruises ┃ Parties ┃ Fishing
Yacht charter in Latchi - an exciting vacation in "Real Cyprus"
Latchi is a favorite destination of ecotourists who prefer silence and solitude. Near the village is the Akamas National Park, a corner of unspoiled nature and the greenest place in Cyprus. Latchi also attracts connoisseurs of gourmet seafood and freshly caught fish.
Chartering a yacht in Latchi is a great opportunity to see the beautiful Cypriot coastline from the water, to swim in the azure waters of the open Mediterranean Sea and to visit one of the most popular locations on the island, the Blue Lagoon, on a modern, comfortable and safe boat.
Cprus Boat Booking is a professional team with extensive experience in arranging private sea charters. We have an impressive fleet of 76 boats (motor and sailing yachts, boats, catamarans). You can rent a yacht in Latchi that will meet 100% of your individual preferences and budget. You can rent a budget yacht with a skipper at a price from 130 €/hour (sailboat) or a luxury yacht up to 3000 €/hour.
One-Day Sailing Itinerary in Latchi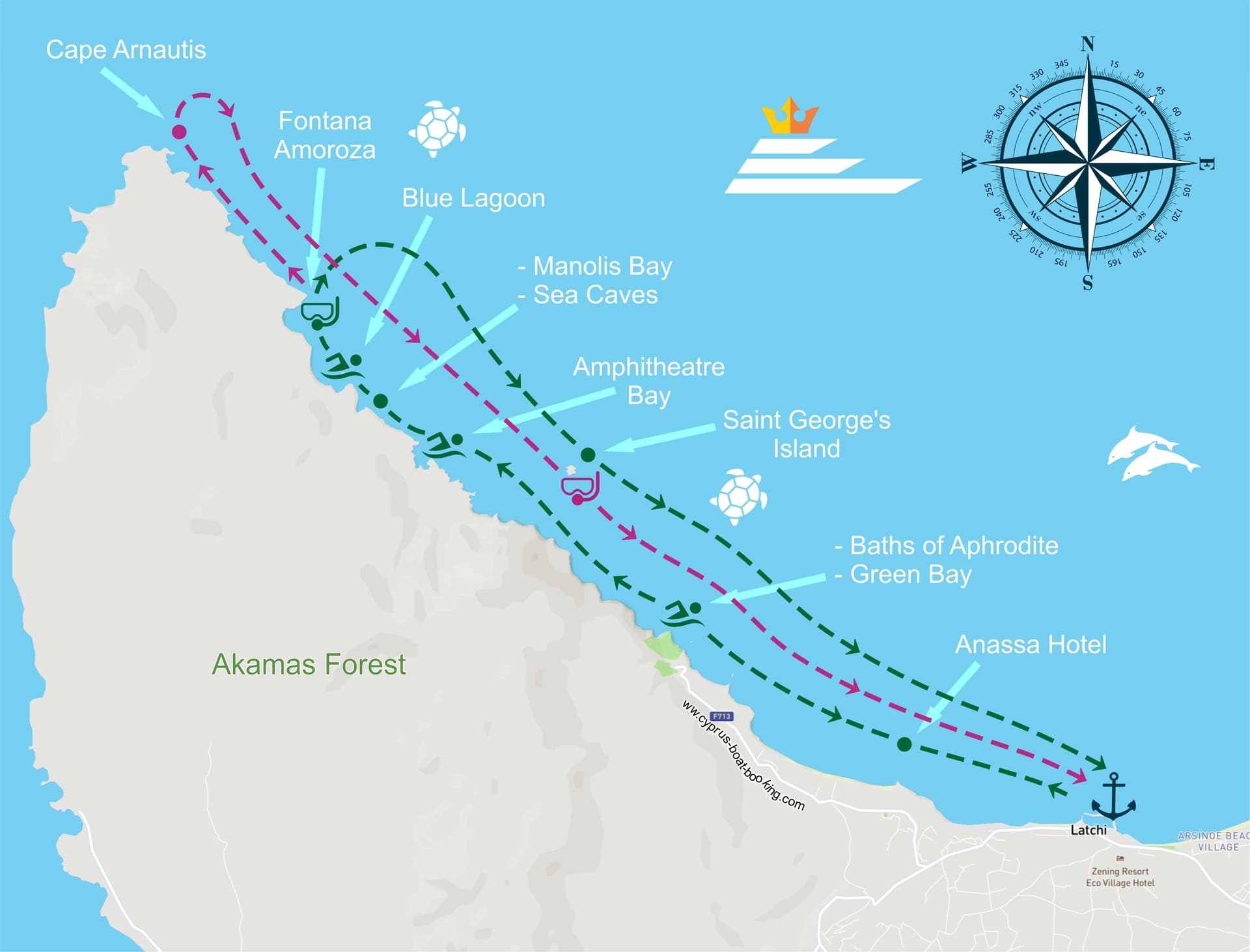 Places of Interest in Latchi:
● Akamas National Reserve Park
● Blue Lagoon (swimming stop)
● Baths of Aphrodite (swimming stop)
● Saint George's Island (snorkeling stop)
● Sea caves
● Manolis bay
● Amphitheatre Bay (swimming stop)
● Fontana Amoroza (snorkeling stop)
● Cape Arnautis
For more information on routes in Latchi, please click here
What do we offer?
We are glad to offer motor and sailing yachts for rent in Latchi with crew. Just tell us what you wish and we will provide a yacht on the best conditions. Sailing tours from one hour and long cruises up to several weeks.
Under a snow-white sail you can go:
● Meet the sunrise or see the sunset;
● Deep-sea fishing (sharks, octopus, tuna);
● For a romantic date;
● On a honeymoon or wedding trip;
● To celebrate birthdays, company anniversaries and in general any holiday or celebration;
● On a sea cruise with a theme party;
● Study the art of diving (professional equipment will be provided);
● For the business meeting, which will be held in an informal atmosphere on the deck.
Chartering a yacht in Latchi is a comfortable trip, organized in accordance with all the requirements for a modern vacation. The rent includes the highest service provided by professional crew, drinks, additional equipment (for water safety, fishing, etc).
For an additional fee you can organize any event, including a banquet. We also offer the services of a chef, professional waiters, DJ, photographer and other specialists. The client chooses the crew and preferred locations (beaches, uninhabited islands, ports and marinas).
Yacht charter in Latchi with a captain
We arrange charters with a captain. An experienced sea guide will sail with you through both the iconic and hidden corners of Latchi. He will professionally guide the boat in the direction of your choice and show you fishing spots if necessary.
Crewed charter services are attractive because you'll be able to plan your time as you please, with no limits on what you can do, but only what you want!
Advantages of renting a yacht with Cyprus Boat Booking
On a modern equipped yacht you can fully enjoy the splendor of quiet bays, turquoise lagoons and a fabulous underwater world in just a couple of hours. We offer yachts, catamarans, boats from budget to luxury class with a captain for rent in Latchi. The yacht will take you to all the iconic spots of the island and even to the neighboring countries.
Travelling on a yacht, you'll get a wonderful vacation without worries, realized just in your format: the range of ships allows you to organize the vacation taking into account absolutely any wishes.
Trained personnel, ready to help at any moment, are on board.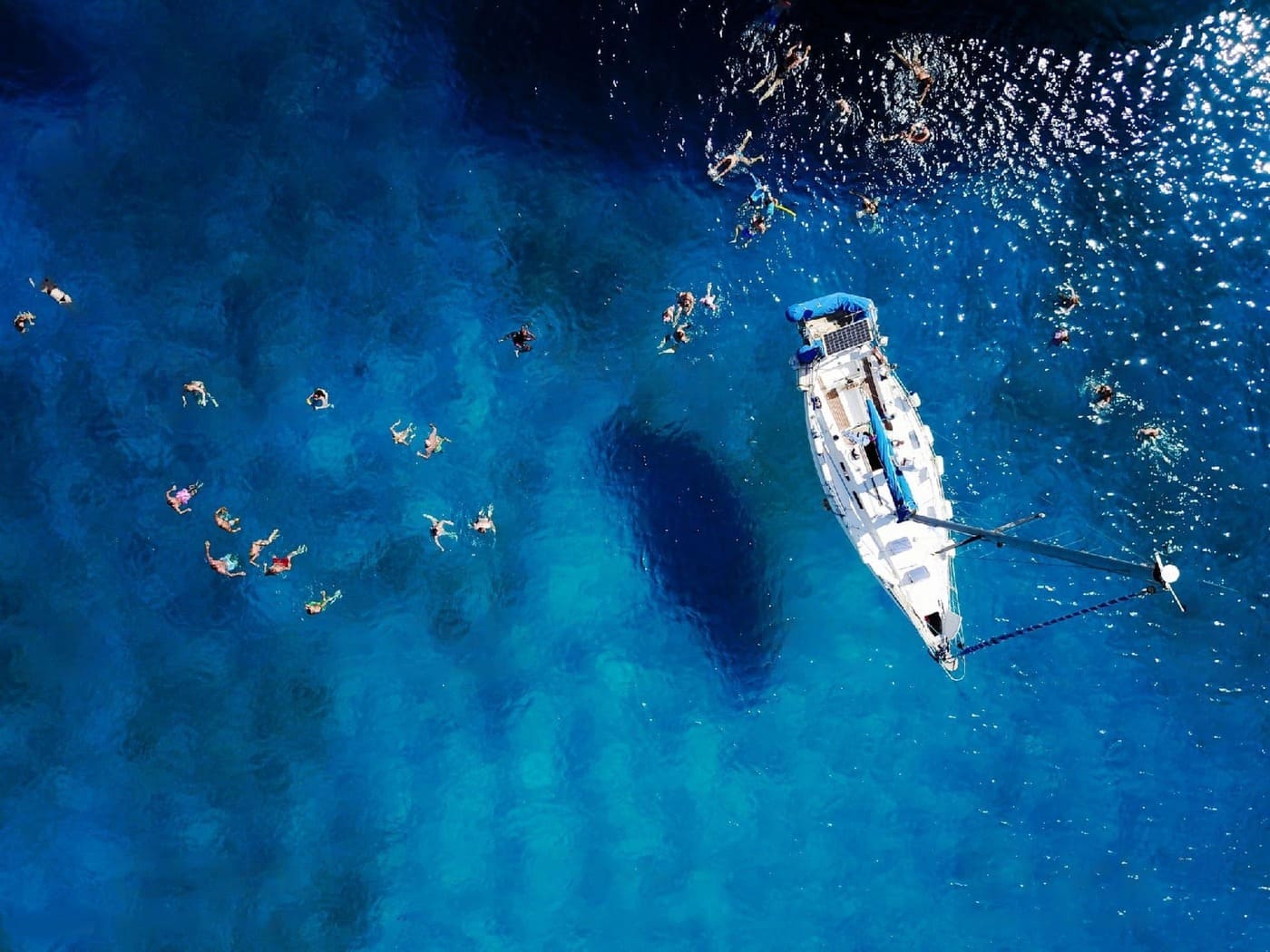 How to rent a yacht in Latchi?
In just a couple of minutes you can book in our company the yacht that best suits your budget and equipment. Booking methods for yachts:
● By phone +357 99 660 979
● Via email
● Via the feedback forms on the website
Our team provides our clients with professional support in choosing appropriate yachts for rent. We know which yacht is suitable for you by class, size, price, style and will provide an unforgettable vacation.
Renting a yacht in Latchi with us is a great opportunity to enjoy comfort, speed, fresh sea breeze, crystal clear beaches with white sand and picturesque Mediterranean landscape.