All boats available for charter in Larnaca
​
Cruises ┃ Parties ┃ Fishing
Boat charter and yacht rental from Cyprus Boat Booking: Be lucky in your choices!
Boat rental and yacht charter deals are for very demanding customers in Larnaca! Our boat rental and yacht charter agency in Larnaca offers you to extract pleasure from a marine party, fishing, private sailing, or dining experience on board the cozy yacht, motorboat, or luxury catamaran. We guarantee 100% safe voyage, due care of our passengers, and friendliness to address every need and budget.
Larnaca — an iconic beach resort for sailboat fans: Book a boat or yacht for your pleasure!
The city of Larnaca is located on the south-eastern coastline of Cyprus, representing an amazing site for tourists from all over the globe. Every visitor can experience intense emotions when strolling along the memorable palm-lined seafront in Larnaca and soaking in the breath-blowing vistas of the gorgeous shoreline.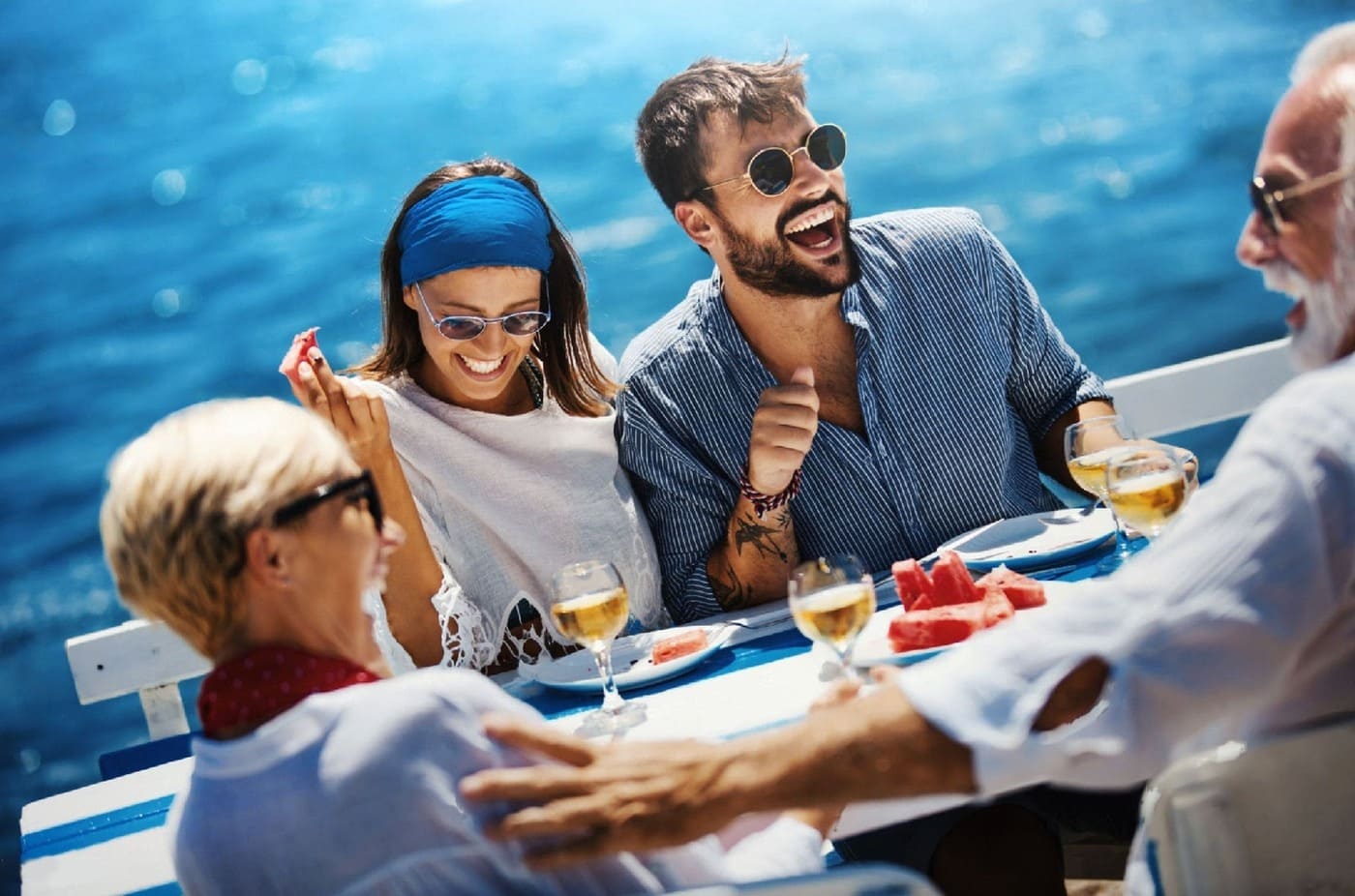 Larnaca is a magical location because the mellow sun, the Mediterranean's turquoise surface, and the distinct Greek culture are intertwined with the past and present. For seafarers, Larnaca is a paradise. More than 300 days a year are sunny, pleasant, and bright, the sea is always safe and quite, and even in the dead of winter, the air temperature never drops below 16°C. Undoubtedly, these are favorable conditions for private and corporate marine parties, deep-sea fishing, and cruises.
One-Day Sailing Itinerary in Larnaca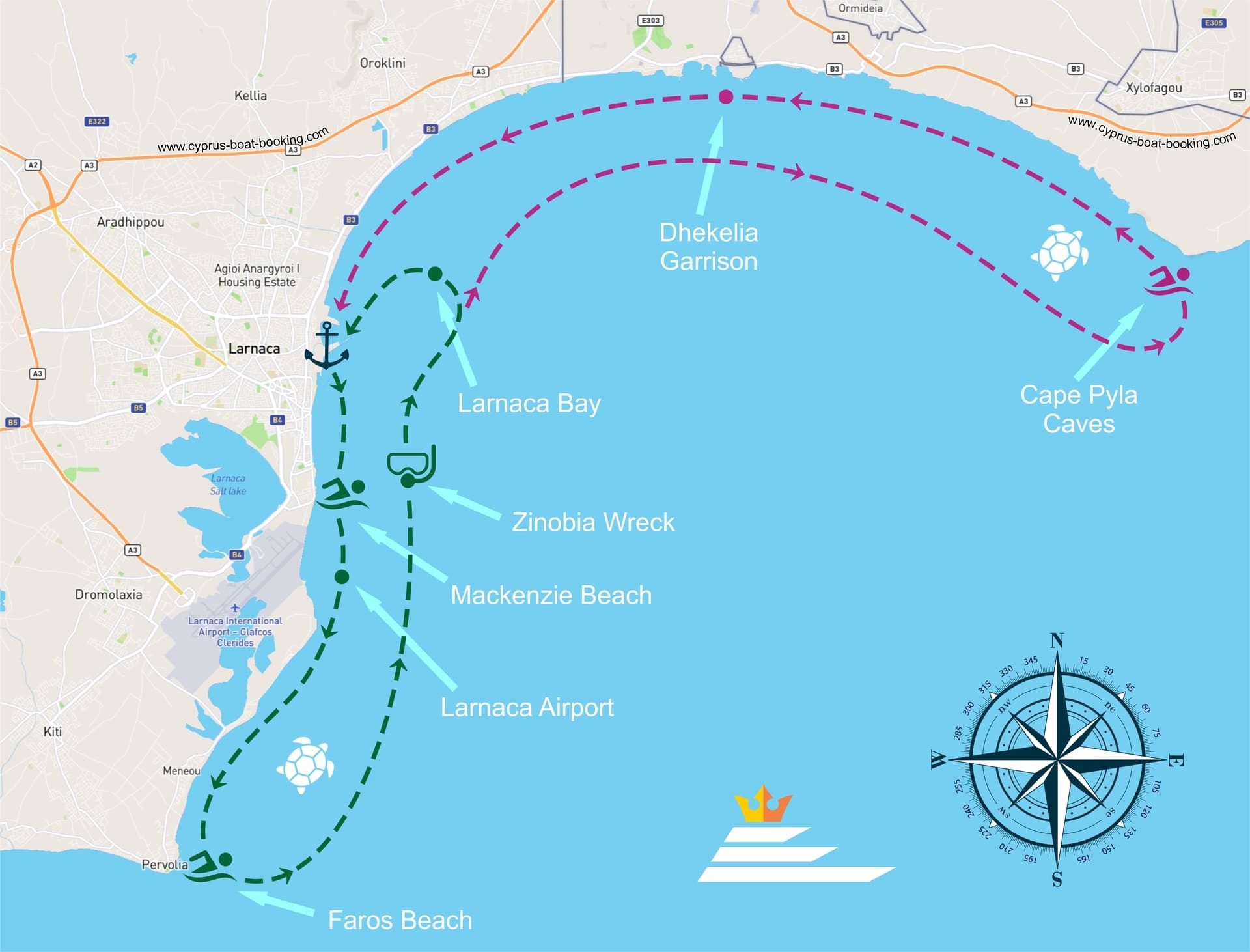 Places of Interest in Larnaca:
● Zinobia Wreck
● Mackenzie Beach
● Faros Beach
● Larnaca Airport
● Dhekelia Garrison
● Cape Pyla, Caves
For more information on routes in Larnaca, please click here
Boat charter and yacht rental services in the urban complex of Larnaca: comfort and safety in a seaway
Boat charter and yacht rental in Larnaca are what every visitor requires to make his or her dreams come true. You'll hear about this, alright! Do you have any ambitious plans to change up your beach activities? It's a bright idea to spend your outstanding vacation on the island of Cyprus and relish traveling by boat! Anyone who wants to rent a comfortable cheap motorboat, book a luxurious yacht, or large catamaran and go sailing should consider Larnaca as their ideal vocation destination.
Benefits of booking a sailboat in the Larnaca zone
Vast selection of rental and charter seaworthy sailboats in Larnaca, which includes budget and luxury models
Price transparency
Availability of subsequent sail-related services in Larnaca
Comprehensive terms and conditions for yacht charter and boat rental agreements
Competent personnel hired by rental boat and yacht charter business owners in Larnaca
Fast and user-friendly solutions for commercial transactions, namely rental and charter acts.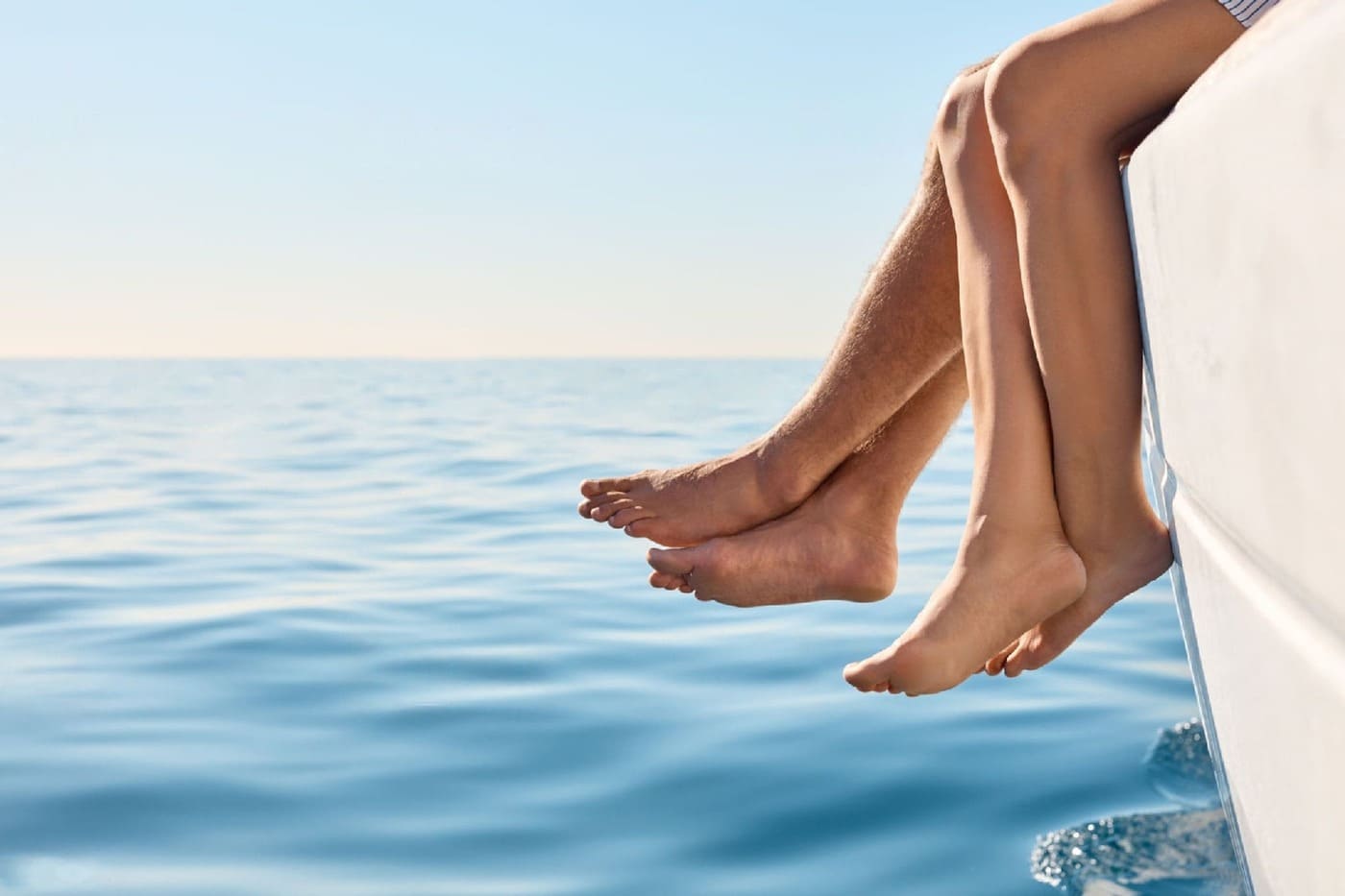 Cyprus Boat Booking is the best boat hire and yacht rental company on the island
For the convenience of our guests Cyprus Boat Booking provides for rent and charter in Larnaca motor boats and sailing yachts, all with crew (a skilled captain, mess steward, assistant, and other personnel). We will match a perfect charter boat or rental yacht for our clients at the best price and with the greatest conditions, whether they want to book an luxury yacht or a cheap one. Simply let us know what you're seeking for in Larnaca, and we'll work with you to select the finest option from a wide range of available choices.
We have a lot of expertise setting up private and corporate-grade boat rental or yacht charter deals in Cyprus. Our Larnaca boat hire company not only has a large fleet at its disposal, but also a staff of knowledgeable professionals who keep the vessels in top technical shape and do everything possible to make your long awaited sailing trip enjoyable and carefree.
Our Larnaca boat charter and yacht rental agency's key features
• You can select either a small boat and a larger one, either a big catamaran or an opulent yacht. Our numerous rental and charter vessels of contrasting sizes, designs, and shapes are all part of our fleet.
• We promise a pleasant, thrilling, and, most importantly, secure maritime trip. Each vessel intended for rental or charter in Larnaca is fitted with life jackets and lifeboats.
• Private charters might last for a short journey or a very lengthy voyage, depending on the client's plans. In the harbor of Larnaca, you can hire a yacht for an hour, several hours, an entire day, or even a week.
• Just choose а yacht or boat to rent in Larnaca and our knowledgeable crew will make your marine holiday a reality!
Recommendations for ordering a charter boat or rental yacht in Larnaca
It's ever so effortless to order a rental boat or charter yacht through the site. Our modern full-service agency recommends you to follow the next steps:
Go to the web site page that offers boat charter and yacht rental operations in the region of Larnaca.
Take a look at our rental and charter prices which depend on the type of yacht you wish to hire in the port Larnaca.
Investigate the key technical characteristics of the available boat, yacht, motorboat, catamaran, and other models of sailing vessels in the Larnaca unit.
Inquire the most appealing charter yacht or rental boat for your forthcoming recreational activity in the Larnaca area.
Pick the most appealing boat rental payment plan: a per hour option, a half-day scheme or full-day project.
Fill out the proposed form to place your boat rental order online.
Make all the necessary preparations for your prospective sail! Let your emotions run high!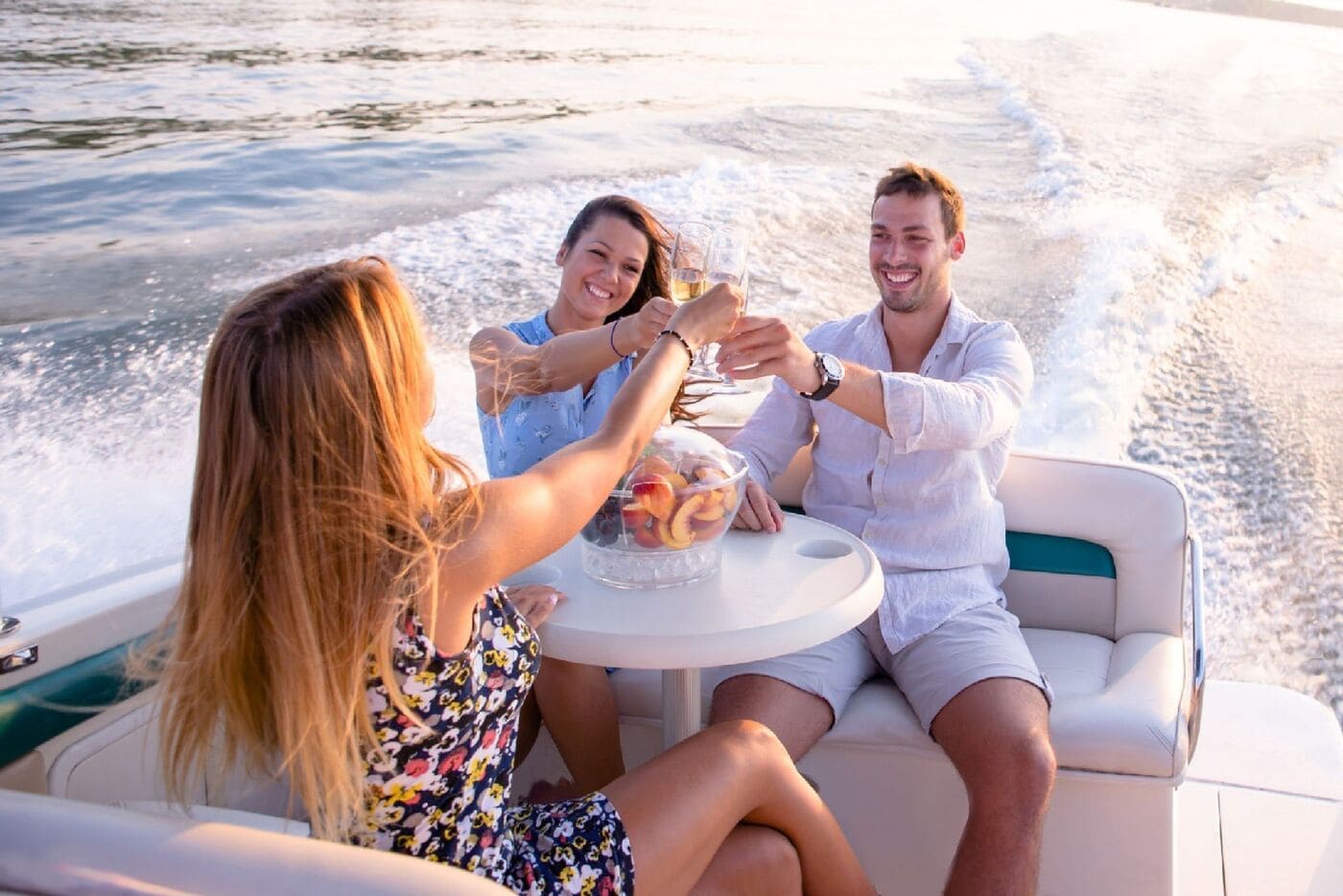 If you find it difficult to place a prompt order for charter or rental online, get it touch with out client service desk. Our mindful advisors will assist you with working out any issue relevant to boat rental and yacht charter in Larnaca.